Learn About JAN

Jan has studied Industrial design at NHIBS in Antwerp, did a Master in science – Bionica - at the Instituto Europeo di Design (CRIED) in Milan.
After a collaboration with Ottavio di Blasi and Paolo Simonetti (Milan/Italy) as an intern designer, working on various designs for companies like B&B Italia, Colombo handles, Terry Plastics etc.
Has worked for 3 years as Head of Design for RIHO International™ group (Tilburg/Holland) where he also worked as purchaser for parts of the entire group. On request of RIHO International™, Jan Puylaert opened the PROJEKT™ studio (Milan/Italy) from where the entire Design department of the RIHO group was directed, and great deal of the purchase of Italian products was iniziated.
In 2000 Jan Puylaert opened his Design&Production studio under the name WET® with which he promotes trendsetting products of high design level specialized in the bathroom area and with sales on international scale.
Thanks to the expertise of 20 years designing for the bathroom sector. Jan is consultant in design and production for companies like HAFRO Italia and several Hotel Chains.
During the years he becomes more&more involved in the actual material matter & production field when he develops together with Claudio Milioti the innovative eco-sustainable ECOPIXEL® material www.ecopixel.eu which apart from being an innovative material, aims to be a High End Designers brand in all fields.
His near future plan is to further develop ECOPIXEL and start up "the factory of the future". A concept that should bring production and life back together.

Download Jan's Puylaert CV
---
OWN DESIGN, OWN PRODUCTION
Jan designs, produces, advises and develops. He loves to learn and uses the latest technologies, as well as continuously researching about plastic and recycling methods.
HOST integrated shower and wash basin

The HOST "Nominated to Compasso D'Oro 2017-2018" is a flexible and unique bathroom-SYSTEM specifically studied for the HOTEL sector in which the washbasin "hosts" all water-supplies for both washbasin and showerwall. This way no extra watersupply-connections are needed for the shower.
100% produced in Italy. Integrated appliences for both washbasin and showerwall are complete with internal connections and come with a "structural" 3mm stainless steel mounting-plate that firmly fixes the showerwall against the washbasin which therefor avoids any extra wall-brackets.
The specifically © WET developed deviator/mixer, designed by Jan Puylaert, gives water to both basin and shower splitting up the watersupply equally between the basin wateroutlet and the showergroup. No extra connections are needed since the entire group is ready mounted with all neccesary connections included.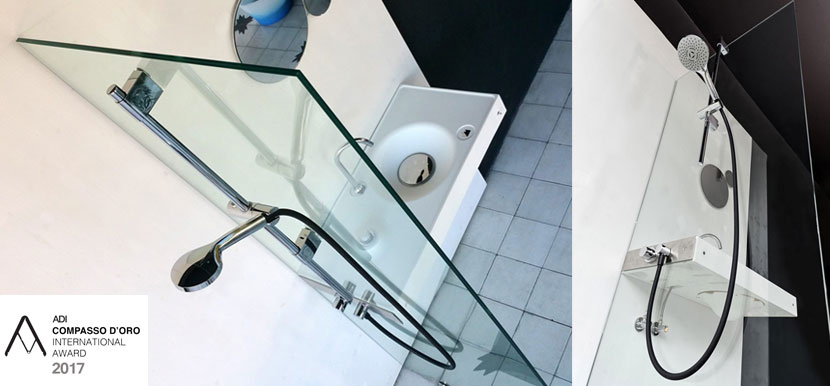 ---
ECOPIXEL SUSTAINABLE MATERIAL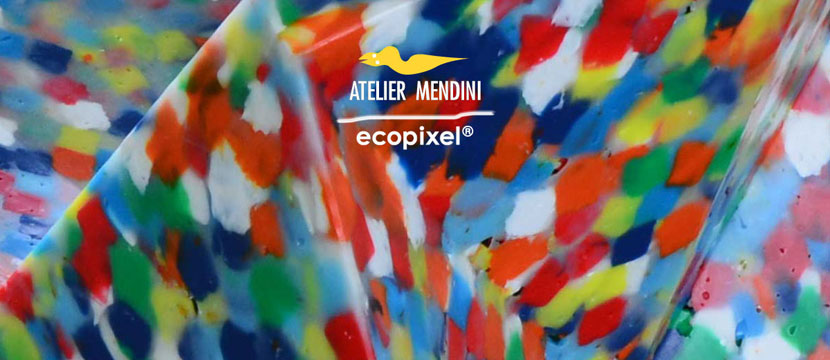 ECOPIXEL This new method for recycling plastics, is developed by Jan together with producer Claudio Milioti. This sustainable material is composed of 100% Low-Density PolyEthylene (LDPE) and melts at 120°C. This means it can be re-melted an infinite number of times without altering its properties. Its low melting temperature means its ecological impact is also greatly reduced during the production phase. It can be melted into different shapes and colors, without homogenizing color pigments from its 'raw' waste material, resulting in a distinctive pixelated appearance. Each product made of ECOPIXEL® is unique because the pixel patterns are the result of the randomized mix during production. ECOPIXEL® is a 100% Italian product.
For the launch of ecopixel into the design world comes the collaboration between ecopixel and atelier mendini has led to a remarkable plastic recycling industry innovation where 'pixelated colors and recycled plastics' go hand in hand. Thanks to alessandro mendini's visionary persistence, an impressive 24x24mm 'pixel' has been developed using shredded plastic waste as a base material for a chaise longue called ALEX.
DESIGNBOOM publication
---
COLLABORATIONS
Jan has an ongoing collaboration with a wide range of companies in both teaching and project development including HAFRO-Geromin (IT), RIHO International (NL), Travel 24 Germany, Industrial Modernisation Center of Egypt, Istituto Europeo di Design Milan, Ottavio di Blasi, B&B Italia, Canberra University in Australia, among others
---
World Wide Forest

The WorldWideForest.com is a story written by Jan Puylaert & Ilia Chidzey. It describes a movement that aims to reforest the world with also your help. Very soon it will be possible to buy land, at this very website, even per square meter, so to make it possible for even those with the smallest budget, to participate in this remarkable project to save our world. The WorldWideForest with the land sold will use it to increase survival rates in hardy environments: restoring, reforesting and then protecting. So transforming every single piece of property into one enormous forest for the well being of all of us.
---
CONTACT
Contact Me if you have any questions or requests, concerning design or production.
WET Srl - Via Altipiano 11, 21010 Porto Valtravaglia (VA) Lago Maggiore - ITALIA

T. + 39 3479603022
mazzi.puylaert


WET store - Piazza Imbarcadero 33, Porto Valtravaglia (VA) Lago Maggiore - ITALIA

---